How We Disappeared (Trade Paperback)
Synopsis
Singapore, 1942. As Japanese troops sweep into Singapore, seventeen-year-old Wang Di is shipped off to a Japanese military brothel, where she is forced into sexual slavery as a "comfort woman." After sixty years of silence, what she saw and experienced still haunts her.

In the year 2000, twelve-year-old Kevin is sitting beside his ailing grandmother when he overhears a mumbled confession. He sets out to discover the truth, putting in motion a chain of events he never could have foreseen.

Drawing in part on her family's experiences, Jing-Jing Lee has crafted a profoundly moving, unforgettable novel about a little-known period in history. How We Disappeared is a story of human resilience, the bonds of family and the courage it takes to confront the past.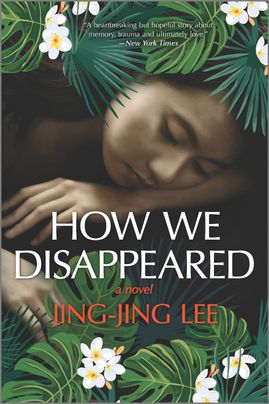 Author

Jing-Jing Lee

Imprint

Categories

On Sale Date

Apr 21, 2020

Publication Month

May 2020

ISBN

9781335013941

Format

Trade Paperback

Other Formats